Priorclave's Unique Autoclave Features
Priorclave offers the toughest autoclaves on the planet. These are the only research-grade autoclaves available that combine the efficiency and reliability of traditional cylindrical pressure vessels with the advanced cycle flexibility of the TACTROL 3 programmable control system, topped with the added safety of Biomaster Protected® Antimicrobial Surfaces (exclusive to Priorclave autoclaves).
Reliability
We keep the parts count low to remove every complexity that might become the source of a problem.  Our hinged doors and lids have silicone gaskets–significantly more reliable and less expensive than the pressurised gaskets required for the powered sliding doors favored by other manufacturers. Our simple, large-gauge, all-copper internal pipework and independent solenoid valves have a long service life and are easy to maintain. Our all-mechanical waste-water cooling system requires no electricity and absolutely minimises the use of fresh water to cool effluent–less water wasted, no sensors to fail, fewer parts to maintain. We back that reliable design with the best support program in the industry: Priorclave autoclaves offer a 12-month limited parts and labour warranty, a 10-year pressure vessel warranty, unlimited technical support. .
Custom Control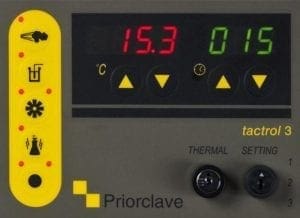 The programmable Tactrol Control System makes it easy for users to create precise custom cycles without sacrificing "one-button start" simplicity. Program cycles on the fly or in advance. Tactrol supports multiple levels of user access, with options for separate lab tech and intern/student programs. Program modifications can be keyswitch or password protected.  
Researchers especially appreciate Tactrol's Delayed Start and Media Warming features. Growth media can be prepared overnight and kept ready-to-pour when you arrive the next morning–without risk of thermal degradation, caramelizing high glucose media, boil-overs, etc.
Biomaster Safety
All external panels have Biomaster Protected® Antimicrobial Surfaces, providing a second line of defense against cross contamination. Biomaster surface coatings have been tested in thousands of applications, and are proven to reduce microbial contamination (including bacteria, mold, and mildew).
Biomaster is the recognized industry leader in inorganic silver-based antimicrobials. Each of their surface treatments is individually formulated and independently tested for safety, longevity, and durability. Biomaster coatings don't leach, can't be washed off, and remain effective for the life of the product. Priorclave is the only manufacturer to offer lifetime protection with Biomaster Protected® Antimicrobial Surfaces.