Autoclaves for Healthcare & Personal Care
Not all healthcare applications demand a medical-grade sterilizer.  In fact, when it comes to healthcare and personal care research, development, production, and quality assurance, a medical-grade autoclave is rarely up to the job.  Medical-grade autoclaves are optimized for clinics and hospitals. They are great for sterilizing flat trays of clean medical instruments. But they rarely prove reliable and flexible enough for the rigors of systematic product and medical device testing and are expensive to purchase, own, operate, and maintain.
Priorclave regularly works with public and private health and personal care organizations around the globe.  These include universities, healthcare providers, pharmaceutical companies, and personal and beauty care companies as diverse as the US FDA, Unilever UK, Fleet Laboratories, and GlaxoSmithKline.  We've grown adept at matching such organizations with an autoclave that can meet their needs: Rugged and reliable, outfitted with a precise, accurate, and flexible control systems. By building each unit to suit your specific applications, Priorclave minimizes costs and resource consumption while maximizing utility and reliability.
Finding Innovative Autoclave Solutions While Containing Costs
The Cancer Research Center (CRC) of Columbia, Missouri is internationally recognized for their novel approach to targeting and destroying prostate tumors using genetically-altered strains of bacteria. In 2013, with their research progressing toward clinical trials, the CRC needed to add another autoclave to their facility.
As a privately funded research endeavor, it all came down to cost: The CRC needed a large autoclave, but didn't have a large budget. Priorclave was able to outfit them with a research-specific 150L steam sterilizer for a fraction of the cost of a similar medical-grade unit. Not only was such a research-grade autoclave better suited to their daily media prep and waste disposal needs, but the ongoing savings when it came to utilities, maintenance, and operating costs meant more funds available for their research.
That same year Priorclave was contacted by an architect working with Central Michigan University on the first independent research facility associated with CMU's medical school. The lab planner needed to include two independently controlled 150L autoclaves in a limited space. None of the major manufacturers had been able to help her find a solution. Priorclave–always eager to tackle a custom-tailored challenge–was able to furnish CMU with a "double-stacked" autoclave: Two 150L front-loading research grade autoclaves with the footprint of a single unit.
Excelling at Autoclave Service and Support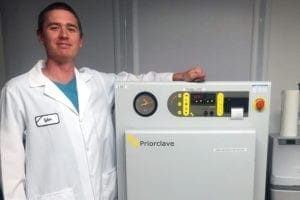 What truly distinguishes Priorclave is customer service and support. Priorclave customers consistently report 93% to 100% satisfaction with their purchase over the course of years–with that rating improving the longer they've owned the unit. In our most recent customer satisfaction survey, most owners rated installation and first use "very satisfactory," with more than a quarter calling it "delightful."
A large portion of autoclave issues can be resolved remotely–which is why Priorclave North America is pleased to offer free lifetime technical support and consultation and one of the best warranty programs in the industry. Priorclave also maintains a network of factory-certified authorized service agents (ASAs) across North America.
Wherever you are, we are as close as a phone call or mouse click.